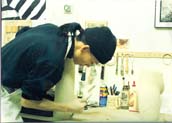 about Vince Yu and his art style
My name is Yuan-Lung YU. My English name "Vince" come form the similar pronouncing "Wen-Shen" of my name in childhood. Before I found this interesting coincidence I have used "Vince" as my signature while I learning and creating art in the America. Everything is happen so occasionally.
My father was an art fonder. His hobbits like bonsai, art stones, and calligraphy and so on... influenced me invisibly but deeply since I was a child.
In my high school period I have learned most of fundamental skill of art creation like sketch, watercolor from Chang Chang, teacher of fine arts class.
After I get into the National Taiwan academy of art and meet Ho Heng-Xiong, instructor of sculpture, I have been leading to adore the beauty of human body and surrealism style.
During my studying abroad period in U.S.A, I have instructed by Mr. Schifrin and Ms. Keelan in academy of art San Francisco, and developing "Content Art" Style which is combined surrealism of Western and literati painting spirit of Eastern.
This style was imitating from the creating form of the early 20th master Robert Arneson, realistic surrealism ceramic artist, and adding literati meaning. I hope it can be a new direction of ceramic art form. You could get the idea of it from my art subject- "Image of Chinese Women".